Fast-tracking Hydrogen Innovation The Need to Accelerate Hydrogen Implementation
The ongoing and increasingly evident impacts of climate change have led to a significant shift in the priorities and strategies of companies across various industries. Substantial resources are being invested into development and adoption of renewable energy technologies, where hydrogen has emerged as a particularly compelling carrier of clean energy.
However, the speed of research and development to improve hydrogen production methods, enhance storage and transportation technologies, and ensure the safety of hydrogen is slower than the expectations of the global society.
That is why, we must use all methods to increase the pace of technology development, including funding, regulatory incentives, investments in education and workforce development, public-private partnerships, consortia, technology transfer, prize-based competitions, rapid prototyping and testing, as well as data sharing.
While both public and private organizations pursue their initiatives and projects at their own pace, Open Innovation methods can enhance and expedite the progress made by individual actors, ultimately leading to more significant and impactful results than individual organizations could achieve on their own.
Open Innovation Methods to Fast-Track Hydrogen Innovations
In the last few years, NineSigma has been engaged in many technology scouting and technology commercialization projects contributing to the development of the expertise and innovations needed to make hydrogen a safe and reliable element of our future economy.
We want to share our learnings, which open innovation methods can be used to fast-track development and adaptation of the hydrogen technology (see picture below).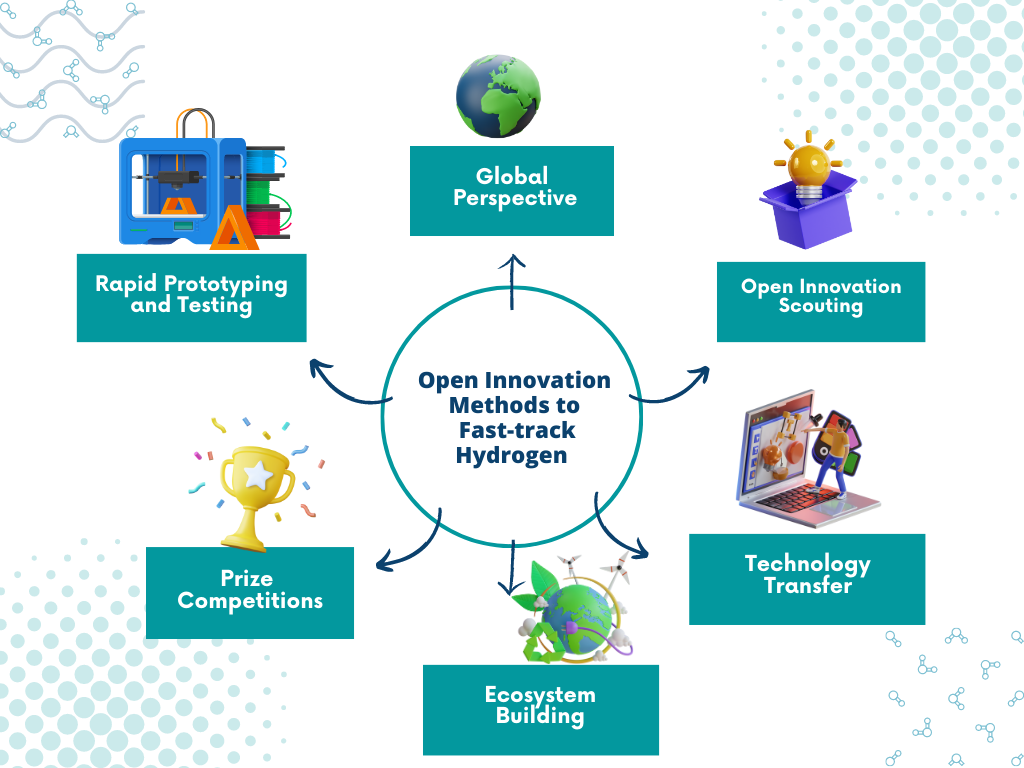 These open innovation approaches have already enabled numerous global corporations across diverse industries to successfully identify the right solutions and partners, contributing to their journey towards making clean hydrogen an integral and vital component of our future world.
Incorporating Global Perspective
Hydrogen is a global energy solution; however different regions may have unique challenges and opportunities. Open innovation enables the incorporation of diverse global perspectives, ensuring that solutions are relevant and adaptable across different markets. Even companies equipped with internal teams of hydrogen technology experts seek external input, as it consistently contributes additional insights and fosters a more unbiased perspective.
To ensure quick and easy access to external global viewpoints, NineSigma facilitates a worldwide network of experts known as the Open Innovation Council (OIC). This platform gives companies the opportunity to learn about latest technology developments from first hands and to test their market ideas across various industries and regions. Incorporating external options allows to mitigate cognitive biases and create a more comprehensive picture. Large companies use OIC to improve their understanding of promising hydrogen carriers for long-distance transportation, hydrogen production from renewable energy sources through water electrolysis, and the prospective landscape of liquid hydrogen. Become a member of OIC to participate in the discussions on these topics (link).
Open Innovation Scouting
The hydrogen technology domain is developing rapidly. When companies are scouting for solutions, they might not be able to find them through publicly available data. Open Innovation Scouting, based on direct outreach to technology developers, allows to identify cutting-edge technologies faster and more reliably.
NineSigma's global open scouting network, NineSights, is popular among companies across diverse industries to scout for the technologies required to make hydrogen a feasible future solution. These examples demonstrate the breadth of emerging technologies in hydrogen domain worth exploring:
Technology Transfer
There is no need to re-invent the wheel each time. Technological developments and lessons learned in different industries can be applied to hydrogen as well. Transfer of the technologies used to monitor critical infrastructure, on-demand maintenance, and safety from other industries to hydrogen will help to improve the safety of this new solution.
In past decades, companies from the oil and gas, mining, and chemical industries have been investing into developing expertise and solutions that could be highly valuable in ensuring the safety of hydrogen in various applications. Here are just a few out of hundreds inspiring examples from NineSigma's open innovation networks:
Prize Competitions
Organizing competitions and challenges that incentivize researchers and companies to create innovative solutions, allows companies to mobilize and engage with vast global innovation communities in the development of ground-breaking technologies necessary for a sustainable future.
In 2022, NineSigma and Air Liquide partnered to invite innovation communities to propose radical solutions for decarbonizing industrial ecosystems, addressing such topics like Data Sharing, Energy Storage and Electric Heating for Hydrogen Production. It will take time to bring these technologies to the market, however the previous experience from scientific challenges demonstrates the effectiveness of this approach in identifying and developing ground-breaking technologies (learn about impressive results of the previous challenges here).
To discover novel technologies for integrating rhenium into fuel cells NineSigma collaborated with Molymet. These catalyst formulations enable the efficient and economical production of hydrogen from renewable sources, as well as the utilization of hydrogen in fuel cells or chemical synthesis, with the aim of producing green hydrogen. Four organizations received monetary prizes from Molymet and were invited to collaborate in the further development and testing of their technologies (learn more about the project here).
Rapid Prototyping and Testing
Iterative strategy of rapid prototyping and testing shortens development timelines and facilitates accelerated learning. This step is crucial, particularly for companies aiming to commercialize technological innovations in the hydrogen sector. Beyond finding pilot partners, the open innovation gives global visibility to the company's endeavors in the hydrogen technology field. This brings a significant value for companies that typically aren't affiliated with hydrogen development.
In 2023, NineSigma's collaborated with RAIGI to identify applications and/or partners who are interested in novel light-weight hydrogen storage tanks. With a focus on innovation and sustainability, RAIGI has developed a novel hydrogen storage system which has unique design facilitating storage up to 700 bars resulting in lightweight and cost-efficient solution. RAIGI employed an open innovation approach to test the market potential of their innovation and identify first piloting partners.
Ecosystem Building
Open innovation contributes to building a robust ecosystem around hydrogen technologies. Collaborations foster networking, knowledge exchange, and partnerships that can lead to continuous advancements.
To genuinely leverage the benefits of open innovation, companies must come out of the comfort zone of working with a few trusted external research organizations or suppliers. Continuous expansion of the trusted innovation networks, mastering the ability to swiftly identify, validate, and integrate new innovation partners, is the skill that has to be learned and practiced. This requires shift from a platform or project-oriented mindset to the ecosystem approach, like in examples of our Clients Idemitsu and RHI Magnesita.
If you want to understand what open innovation methods can help your organization to multiply your efforts towards creating sustainable clean energy future, please get in touch: contact@ninesigma.com
Get in touch
NineSigma Europe BV
Koning Leopold I straat 3B-3000 LeuvenBelgium
+32 16 24 42 80
​europe@ninesigma.com
USE CASES
You may also like...