energy
From Carbon to Clean: NineSigma Accelerates the Energy Transition Through Open Innovation A Commitment to Sustainability
NineSigma works with a vision to create a more sustainable world by helping solve scientific and technological challenges through active collaborations.
By providing anonymous tech scouting, technology landscaping & experts survey, NineSigma focuses on discovering key technologies to solve some of the most urgent and pressing energy challenges the world is facing today. We work with a vast range of different industries and sectors on cutting edge solutions for energy generation, storage and consumption to positively reframe and catalyze the progress towards achieving NetZero.
The Great Progression and the Future of Clean Energy
The world is undergoing a period of profound transformation, and one of the biggest positive reframes we are witnessing is a transition from carbon energy sources to clean ones. There is, therefore, a pressing need for better energy systems and infrastructures that are not only sustainable, but also efficient in the long term. In this pursuit, a number of next-generation technologies – on topics like green energy, carbon capture, nuclear fusion, battery storage – are gaining attention and popularity that would enable businesses and organizations to alleviate their carbon footprint and adopt strategies towards the NetZero goal.
How is this relevant to your business?
Setting carbon targets has more than singular benefits for a company. Not only is this a path to reduce carbon footprint, but also a responsible approach towards establishing reduced and stable energy costs and practices. This in turn builds stronger rapport and confidence in a company's vision; and its relationship with the external industrial world. Clean energy can help you ensure maximum economic growth with efficient and sustained outcomes.
"Next generation technologies can provide zero-carbon electricity and longer-term seasonal electricity storage, ease grid congestion, stem renewable curtailment, boost reliability, and facilitate integration of solar and wind into the grid while supporting goals for 100% clean energy."
~ Deloitte, Analysis of 2022 renewable energy industry outlook
Keeping Up with Energy Trends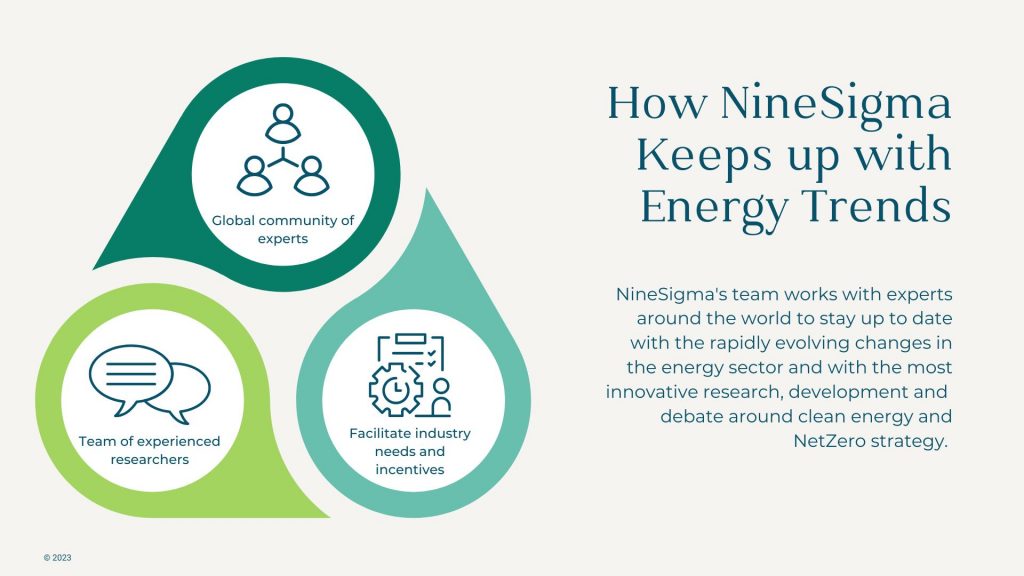 Efficiency: A Carbon Utilization Approach
At NineSigma, we believe creating efficient energy systems and infrastructures is a primary goal when adopting sustainable approaches. We work with a particular focus on "utilization", to ensure that maximum use is being made of available resources and minimum carbon is released into the environment. In this way, we are working on not just capturing, but also utilizing carbon. This approach, in turn, leads to time and cost efficiency in execution.
This year, NineSigma represented a major energy company in finding development partners for new technology to synthesize environmentally friendly components of liquefied petroleum (LP) gas (propane and butane). We helped MVM group in exploring Carbon dioxide Capture and Utilization Technologies and RHI Magnesita in finding an innovative method for the production of MgO ingots by melting MgO particles via a continuous or semi-continuous process.
Learn more about related projects here. 
Cutting-Edge Integrated Solutions and Industries
Innovations and ideas have potential to impact the overall success of businesses. There is a broad and diverse range of different sectors that are working to incorporate a green approach, but quite often, find it difficult to adopt sustainable methods when working on a subject beyond their expertise. NineSigma is working to provide integrative solutions to bring together insight from different industries and solve profound and multidisciplinary challenges. Backed by rigorous research from academia and prestigious research and development institutions around the world, we are finding integrated solutions to best fit your business needs and requirements.
In recent years, NineSigma has represented a leading Energy Company in determining innovative photovoltaic technologies that enable the maximal exploitation of agricultural lands and with a leading paints and coatings manufacturer to find new "Plug n Play" energy efficient solutions that can be fitted and managed by DIY home owners or professionals.
Learn more about related projects here. 
Building Resilience in Systems
Adopting clean energy solutions comes with its own set of challenges. Not every environment and condition is conducive to constructing sustainable energy infrastructures. Places with extreme climate and lack of natural resources face a stronger challenge in this approach. NineSigma is working with innovation experts around the world to uncover progressive and cutting edge solutions to overcome such challenges and to build resilient systems that are scalable and secure.
NineSigma is working closely with the Al Dabbagh Group and the Qatar Research, Development and Innovation Council on finding Renewable Electricity Generating Technologies and Innovative Energy Storage Solutions for Harsh Environments.
Learn more about related projects here. 
Bringing the Best Experts Together
Businesses with a strong goal of contributing to the Climate recovery have a chance to share their vision with the world, while inviting experts to collaborate with them on it. Through NineSigma's Grand Challenges, your company's green vision can receive profound exposure and help you stand out in the industry. By putting forward a challenging problem and welcoming proposals from all over the world, NineSigma can help you in discovering novel solutions to projects you may not have the resources and insight to solve internally.
NineSigma has partnered with prestigious companies (Molymet, Air Liquide and Al Dabbagh) to conduct highly successful Grand Challenges and receive proposals from experts around the globe.
Please learn about our work in the presentation down below. 
What Can You Do?
NineSigma can help you stay up to date with the top breakthrough solutions for Clean Energy, learn how here. Get in touch to find out how your business can contribute to the NetZero strategy for Energy Management.
If you'd like to know more don't hesitate to get in touch or send us an email at: contact@ninesigma.com
Some useful links:
https://www2.deloitte.com/us/en/pages/energy-and-resources/articles/renewable-energy-outlook.html
https://assets.publishing.service.gov.uk/government/uploads/system/uploads/attachment_data/file/1107502/Energy_Trends_September_2022.pdfhttps://www.eesi.org/topics/renewable-energy/description
https://bigthink.com/progress/the-great-progression-peter-leyden/
Get in touch
NineSigma Europe BV
Koning Leopold I straat 3B-3000 LeuvenBelgium
+32 16 24 42 80
​europe@ninesigma.com
USE CASES
You may also like...